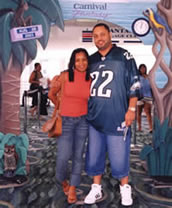 Hi Cheryl,
how to buy vape juice online
I just want to thank you for planning such a wonderful Bahamas Vacation for my husband and I. Although we just stayed for a brief time, you made sure that our weekend was full of fun and excitement. The itineray that you planned was perfect allowing my husband and I to enjoy every aspect of the island, from the fun nightlife, to learning about the history of the island. Your knowledge of the island helped us in knowing exactly what we wanted to do, from chilling on the soft white beaches of Cable Beach, to enjoying the famous Booze Cruise through Paradise Island, the Straw Market and the shopping on Bay Street. I can't forget the spicy conch salad and the intoxicating Bahama Mama's that you insisted that we try. The combination made our second honeymoon better than the first. Nassau was great, thanks to you and your excellent planning. You really listened to our interest therefore making sure that our trip was perfect. A trip full of romance and fun, as well as informative. Thank you for your great insight and know that we will be traveling again, maybe this time as a family due to the last great trip!!!
Kim and Junnie Brand
I testify:

As a writer, I admit I live up to the eccentric reputation of people in the creative profession. In my most recent novel, a murder was committed on the beautiful pink sandy beach of Horseshoe Bay in Bermuda. It was a place that until I met Cheryl Gill, the owner of Distinct Destinations, had only existed in photos and travel magazines. But, as the novel approached a climax, I knew that a trip to Bermuda was in the cards or should I say in the script.

Ms. Gill took as much time as was needed to chart the way for me and my characters to see up close and personal the secluded alcoves of the beaches, the crystal caves, the rippling blue waters, and the men, "Ohmigosh," according to one of my characters. There was even a phone call in the middle of the night when I had run out of money and Distinct Destinations accepted my call and not only told me where to go to access my cash but explained the delicacies of international travel, which allowed me to complete a fun filled, fascinating, and breahtaking experience.
I was very pleased with Distinct Destiantions professional and sincere service.
Sincerely,
Gail Ramsey, Author (see www.allaboutticktock.com)